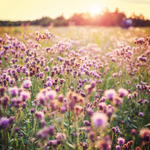 Farm to Face : The New Beauty Movement
The beauty industry has a long history of focusing on desired results - firmer skin, reduced acne, a fierce makeup look, hair perfectly styled. The truth about how these products are formulated and the ingredients used to create these results were rarely discussed in the past. Now, more than ever, consumers are demanding transparency from beauty brands as they are now aware of the link between personal care and beauty products with negative health outcomes.
You may be familiar with the terms ``you are what you eat" and "farm to table"; but the latest beauty movement takes this concept to your beauty routine."You are what you put on your skin" has been a revelation that made the demand for clean beauty products and transparency about ingredients from beauty brands become much louder. Consumers are now becoming more educated about ingredients in their beauty products - good and bad. They have a better understanding of active ingredients, and how they work for the skin. Take niacinamide - an active ingredient which has seen a whopping 193% increase in sales in 2020. Consumers are also learning about harmful ingredients, such as parabens, which are considered to be "hormone disruptors" which mimic hormones in the body and can be linked to several negative health and reproductive health outcomes. Beauty brands (including Afiya Beauty) are choosing to create innovative and sustainable solutions for these demands, by going back to the basics - the ingredients. 
So what is farm-to-face skin care exactly? And why is it so important?
Farm-to-face skin care includes the use of fresh and pure ingredients that are sourced locally to the premises where the products are manufactured. The focus has now shifted to understanding not only the therapeutic and functional uses of each ingredient, but also taking a deeper look into agricultural practises, how the ingredients are harvested and stored, and how far these ingredients travel before they reach the lab or processing plant where the products are manufactured. It is a top down approach that not only allows products to have fresher ingredients, but ensures that they are also sustainably sourced and created.  Brands who utilize the farm-to-face approach are focused on the pillars of sustainability and transparency of their products, while also focusing on achieving great results. A win-win-win in our books. 
Our first experience with farm-to-face began a few years ago when we met our local botanist/farmer; Janet Crosby. She had tried our products and was excited to gift us some beautiful roses and rose buds from her garden. We did not have any botanicals in our products at the time, and not wanting them to go to waste, we decided to infuse the local roses into an oil blend to create our Rose Body Oil. That was the beginning of a beautiful journey into learning about all of the wonderful botanical ingredients that were grown in local farms right in our backyard. We decided to include as many of these locally sourced and harvested ingredients as possible into our formulations - and the freshness of the ingredients elevated our products in ways we could have never imagined. And the best part? That we can so easily source the ingredients, as they are grown within minutes of our headquarters! We were focused so much on exotic and luxurious ingredients, some of them shipped to us from across the globe - that we were blind to the plethora of beautiful ingredients available to us, picked at peak freshness, and delivered to our door in 30 minutes.  
One of the most beautiful and transformative moments for us as formulators was getting the privilege to visit these farms and connect with the ingredients in their natural element. We were so used to receiving raw ingredients in their already perfectly manufactured forms, we had somehow lost the connection that these cold-pressed oils and luxurious extracts were once upon a time a plant just like the ones right in front of our eyes. It really gave us such a full-circle perspective, to understand that beauty really can be something as simple as understanding that nature gives us the ability to solve endless skin and beauty and health concerns. 
Locally grown Mullein leaf, renowned for its amazing therapeutic benefits, is infused into local beeswax to create our Afiya Beauty Healing Balm.  Lavender essential oil from a local lavender farm is used to fragrance some of our products. Locally grown roses are infused into our Rose Body Oil, and locally roasted coffee beans are slowly infused into jojoba oil to create our top-selling coffee under-eye rollers. Locally sourced ingredients have become such a strong pillar for our formulations, and building a network of local farmers and suppliers has really made us appreciate all that our local community has to offer. 
As we move into a new chapter of our business - our focus will always remain to provide our customers with the best quality products we can possibly provide, and we will always prioritize whatever we can source locally when creating our products to ensure the freshness and quality that we pride ourselves in our products.